Why Is My Bearded Dragon Black: Reasons Your Bearded Dragon Is Turning Black
Bearded dragons can turn black for various reasons, such as brumation, a period of decreased activity, stress, temperature regulation, stress, and aggression, among others. Note that color change in bearded dragons is natural and occurs due to their environment.
However, it's essential to observe your bearded dragon closely and note any other symptoms or behaviors associated with the color change. For example, if you're concerned about your bearded dragon's health, it's always a good idea to consult a veterinarian specializing in reptiles.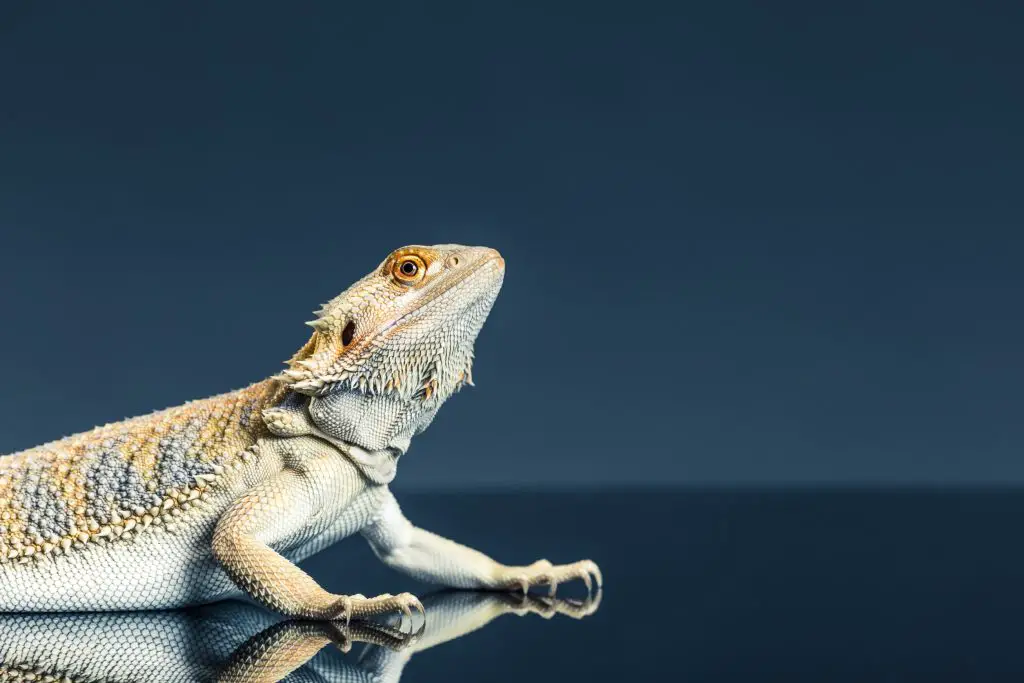 Reasons Why Your Bearded Dragon Is Turning Black
Temperature Regulation
Bearded dragons are ectothermic animals, relying on external heat sources to regulate their body temperature. When a bearded dragon is too cold, it may darken its skin to absorb more heat from its environment. On the other hand, when a bearded dragon is too hot, it may lighten its skin to reflect more heat and avoid overheating. This is known as thermoregulation and is an essential aspect of survival.
If your bearded dragon is overheating or cooling, a few indicators may suggest a problem. Behavior changes, such as moving less and opening its mouth constantly, may indicate a temperature rise or fall. Another sign of a problem is if the bearded dragon's beard turns black and stays that way even when the rest of its body turns back to normal coloration.
Feeling Threatened
When a bearded dragon perceives a threat, it may puff up its body, extend its beard and darken its skin color to warn of the perceived threat. This is a defensive behavior known as "bearding," so bearded dragons are named as such.
Bearding is a way for bearded dragons to make themselves appear larger and more intimidating to potential predators or threats. In addition to darkening their skin, bearded dragons may hiss, open their mouth, or lash out with their tail to defend themselves.
If you observe your bearded dragon exhibiting these behaviors, it's best to give it some space and avoid handling or interacting with it until it has calmed down. However, bearded dragons can usually recover from fear once they feel safe and comfortable.
Stress
When a bearded dragon is stressed, it may darken its skin color as a defensive response, similar to when it feels threatened. This is because stress can activate the bearded dragon's sympathetic nervous system, causing an increase in adrenaline and other stress hormones that trigger the body's "fight or flight" response.
Stress can also impact a bearded dragon's health and overall well-being. Chronic stress can weaken the immune system, making the bearded dragon susceptible to illness and disease. It can also lead to decreased appetite, weight loss, and other health problems.
Some familiar sources of stress for bearded dragons include inadequate or improper living conditions, such as an enclosure that's too small or lacks appropriate heat, light, or humidity levels, handling or interaction that's too frequent or rough, exposure to loud noises, vibrations, or other disturbances in their environment, illness or injury, and the presence of other pets or animals in the household.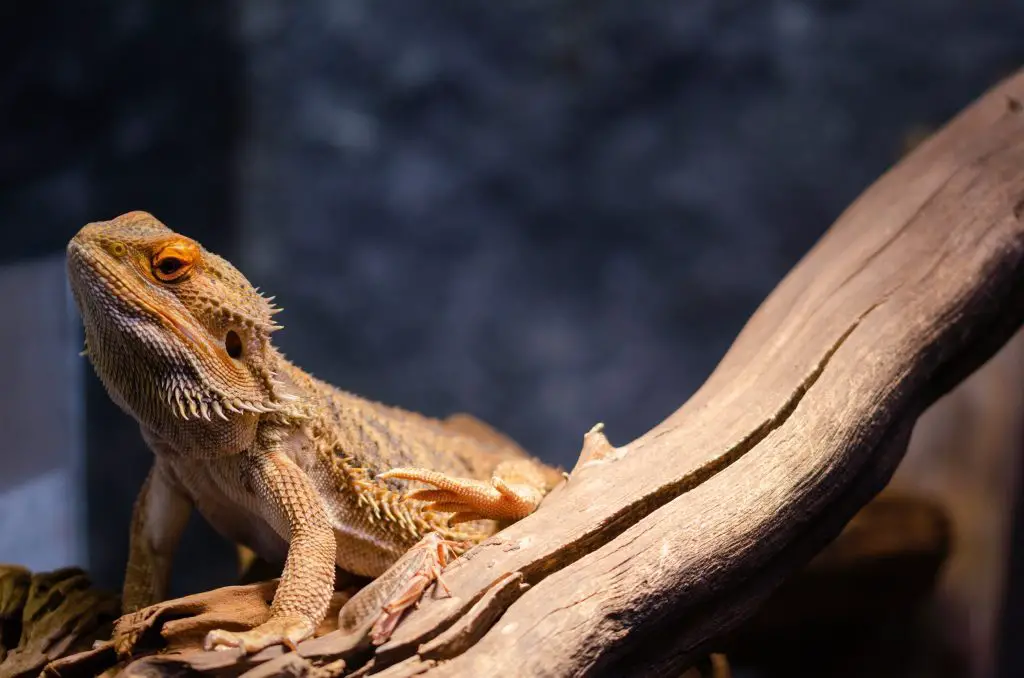 If you suspect that your bearded dragon is experiencing stress, it's essential to identify and address the underlying cause. Providing a comfortable, safe, and stimulating environment and minimizing handling and interaction when the bearded dragon seems agitated can help reduce stress levels and promote overall health and well-being.
Looking for a Mate
During the breeding season, male bearded dragons often display various courtship behaviors, including turning black, head-bobbing, arm-waving, and circling the female. These behaviors are all designed to catch the female's attention and show off the male's strength and dominance.
The darker the skin color, the more dominant the male appears. This is because darker skin color indicates that the male has high levels of testosterone, which is associated with increased aggression and dominance.
Female bearded dragons may also darken their skin color during mating season, although they typically do so to a lesser extent than males. Female bearded dragons may also display specific behaviors, such as digging and scratching at the substrate, to indicate to the male that they are ready to mate.
After Brumating
Brumation is a period of dormancy that some reptiles, including bearded dragons, undergo during winter. During brumation, the bearded dragon's metabolism slows down, and they may become less active and eat less food.
When a bearded dragon emerges from brumation, it may take time for its body to adjust to normal activity levels and metabolism. During this time, the bearded dragon may appear darker in color than usual due to several factors, including:
Dehydration: Bearded dragons may become dehydrated during brumation, and their skin may appear darker. It's essential to ensure your bearded dragon has access to fresh water and drinks enough fluids after brumation.
Shedding: Bearded dragons may also shed their skin after brumation, and the old skin may appear darker before it is shed.
Regulating body temperature: As mentioned earlier, bearded dragons may darken their skin color to regulate their body temperature. However, when they emerge from brumation, their body temperature may fluctuate more than usual, leading to changes in skin color.
Stress: Emerging from brumation can be a stressful time for bearded dragons, and stress can cause changes in skin color.
Feeling Territorial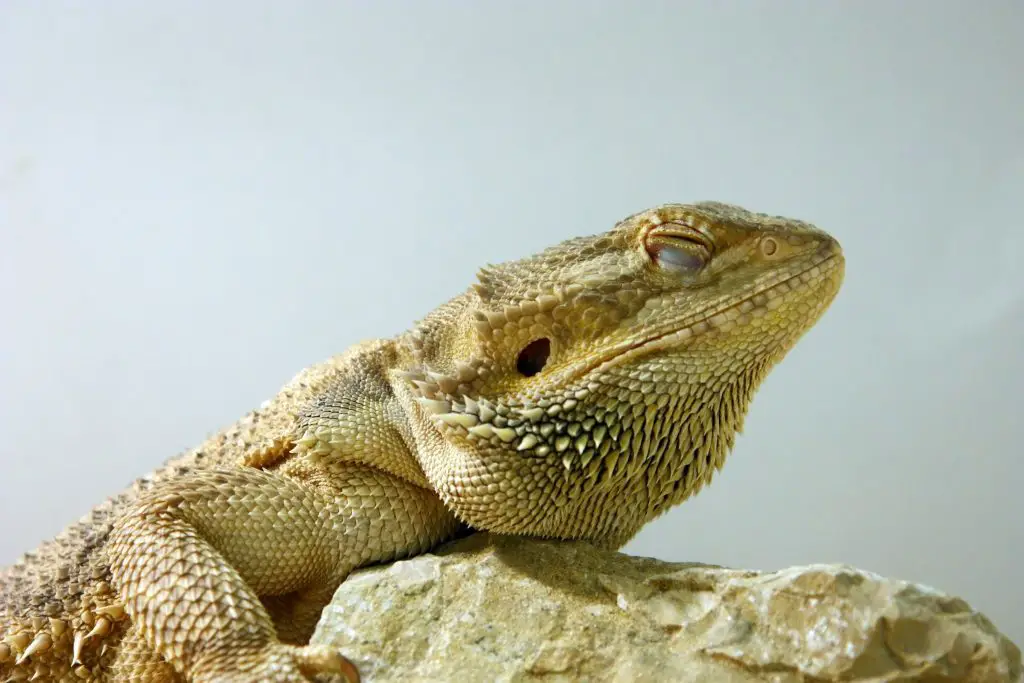 Bearded dragons can turn black when they feel territorial to assert dominance and warn potential competitors or intruders. This means saying, "back off; this is my territory." In the wild, bearded dragons are known to establish territories and defend themselves against other bearded dragons and other animals.
Territorial behavior is more common in male bearded dragons, especially during breeding season when, as mentioned, they are looking to establish territories and attract mates. However, females can also exhibit territorial behavior, primarily if they are housed together with other females or are competing for resources such as food or basking spots.
Providing bearded dragons with adequate space and resources is essential to prevent territorial behavior and aggression. Housing bearded dragons together can be challenging and may result in fights or injuries, so keeping them in separate enclosures is usually recommended. Providing multiple basking spots, hiding places, and other resources can also help reduce competition and stress.